Energy Assessment Service Birmingham
Route5 is nationwide building and development consultancy based in the heart of the Midlands.
Our standard Assessment Procedure (SAP) is the UK Government's recommended method system for measuring the energy rating of residential dwellings. Route5 are pleased to offer a full energy assessment service in Birmingham which includes guidance on both fuel reduction methods and how to make designs more economic to achieve your intended energy ratings.
It is recommended that a Design SAP calculation be carried out as early as possible to check that the building will comply with the carbon emission requirements contained within the calculation. If the requirement is not met then changes will need to be made to achieve compliance.
Standard Assessment Procedure (SAP) Calculations Birmingham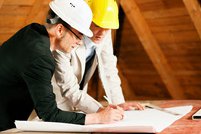 New Constructions
Since 1995 it has been an obligation in Birmingham that all new dwellings have SAP home energy rating calculations prepared. Its is a monitored regulation that you demonstrate to the local building control bodies that the proposed dwellings meet the standards of the prevailing building regulations with regards to the conservation of fuel and power.
Extensions/Change Of Use
In addition SAP calculations may also be required in order to support building regulations applications for existing dwellings – for example, when an extension is being added, or when a building undergoes a material change of use or material alteration.
Contact us today for your SAP Calculation Report
Our individual specialists combine to ensure that when you require our services you receive an efficient and cost effective solution to your building/development requirements. If you require more information regarding a Construction Energy Assessment in Birmingham please contact us direct today. Alternatively you can call us on 07912 120 052 or fill out our online enquiry form and we'll get back to you as soon as possible!